You Are Invited!
Last Updated on Monday, 15 April 2013 04:45 By Darnelle Monday, 15 April 2013
We are very excited about our upcoming Anniversary Party!  
Join us on April 27th between 12pm and 4pm to help us celebrate one year of fitness and yoga in our neighborhood.
What is happening at the party you ask?
Spread the word, bring your friends and family.  We look forward to seeing you there.
Learn More
Commit to Fit!
Last Updated on Tuesday, 9 April 2013 11:47 By Darnelle Tuesday, 9 April 2013
Commit to Fit Pass – One Year Unlimited Yoga and Fitness Classes
Now is your chance to make a real commitment to your fitness.  I don't like to sound like a cheesy, mega gym advertisement but it's hard not to when we are giving an opportunity for one year of unlimited fitness and yoga classes for $40 / month.
As you know, our One Year Anniversary Party is coming up on April 27th 12pm-4pm. As part of the celebration we are offering the new Commit to Fit Pass at the special price of $40 / month.   The passes will be available online or in the studio on that day only.
Please also note:  April 27th will be the last day to purchase any of the passes we offer at the current prices.  After that, our prices will be increasing slightly.  Also, on April 27th only, our 6 Pack of classes will be available for a special price of  $43!
Commit to Fit Challenge – Summer Fitness Challenge
In honor of these special passes we are also issuing a Commit to Fit Challenge!  The challenge will take place over the summer months – June 21st – September 21st.  Registration for the Commit to Fit Challenge opens on April 27th and will be available in the studio or online.
All you have to do is:
Pledge to exercise  at least  3x per week for 10 weeks between June 21st and September 21st
Attend at least 15 classes at  Eastside Fitness ( Of course you are welcome to do all 30 exercise days at the studio if you wish!)
Document other, non esf exercise and submit to Wendy or Darnelle either online or at the esf studio  (running, hiking, canoeing, SUP, classes at other fitness studios, gym workouts etc all count as exercise).
When you have completed your Commit to Fit Challenge, you will be rewarded with:
A special Eastside Fitness "Commit to Fit" Shirt
A 6 Pack of classes to use for yourself or as a gift
A chance to win a special health and fitness prize pack  and most importantly
Increased health and fitness and a head start on your fall fitness routine!
FAQ's:  
1) Do I have to have a Commit to Fit One Year Pass to participate in the challenge?
No. You can use any type of pass to attend the classes at Eastside Fitness.
2) Can I attend classes at other fitness studios?
Yes.  Please let us know what classes you attended at different studios.  However, you do have to attend at least 15 classes at Eastside Fitness.
3) Does the Tuesday night run club count as a class at Eastside Fitness?
No.  It does not count as a class but it does count as an extra exercise session. 
4) If I go on a 4 hour hike one day, does that count as 4 exercise sessions?
No.  It will count as one exercise session.
More details will be available in the coming weeks to stay tuned and get ready to Commit to Fit!
Learn More
Fitness, Art, Technology and Community
Last Updated on Wednesday, 3 April 2013 06:25 By Darnelle Wednesday, 3 April 2013
GPS ART Challenge
#gpsart
The gauntlet has been dropped! A challenge has been issued!  What image can you make in our neighborhood or elsewhere using a gps tracking device on a run, walk, hike or cycle?
Last Thursday at our weekly run club workout, Jacquie Scarlett, one of our BMO Half Marathon team members brought up the idea of making images using gps tracking devices.  The idea is not new and if you search #gpsart on Twitter or do a Google search on the subject, images such as these three below will appear:
 This "alien" drawing looks to be created using a simple grid pattern.
 A "dog face" would be a little more complex to make.
And with a little more planning, a person could get really creative!
GPS Art is  a method of drawing on a map by running, walking or cycling while using a global positioning device to make an image out of your route.
Not being one to back away from a challenge and recognizing a GREAT IDEA when I hear one, I immediately starting thinking about how we could write out the words "Eastside Fitness" using the streets and alleys throughout South Hill, Cedar Cottage and Little Mountain.  The run we did do last Thursday is a far cry from art, but on closer examination I have decided, if you really use your imagination, it looks like a pair of broken sunglasses.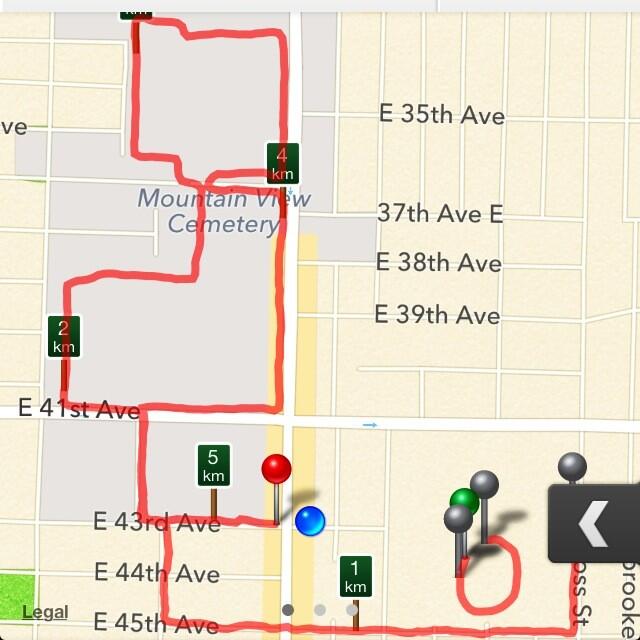 Okay…so it's not really art BUT I am committed to making something more interesting!
Apparently, the folks at Wellpepper  have already got "their people" to spell out "Wellpepper" on a route in Seattle!   I am anxiously awaiting the viewing of this masterpiece.
The more I think about the project, the more I see what a great way it is to motivate people to get active outdoors.
Technology geeks will have fun working with apps such as RunKeeper, Strava,  or others to plan and map routes.  Other details such as distance, pace, elevation information and calorie expenditure are also available for analysis and comparisons.
Artists can get creative and think of interesting ways to use the technology to make more complex and thought provoking pieces.
Community activists can use the maps to highlight certain aspects of their neighborhoods that are proud points or that need attention.
From a fitness perspective, the only way the art and technology come together is through a person getting out running, walking or riding!
Exercise combined with art, technology and community!  It's a win-win-win-win!
I think it will be fun to celebrate GPS Art with an exhibition of the collected works.  So to all who are interested in taking up the challenge: What image can you make on your runs, walks or bike rides this spring and summer?  Save your work.  Post it on our Facebook Page and tweet it.  Be sure to tag @eastsidefitness, @wellpepper, @theyogashack and #gpsart .  
Stay tuned for incoming works and for details about the exhibit!
Learn More
Search
Subscribe to Website
Stay up-to-date with new information, delivered straight to your inbox.